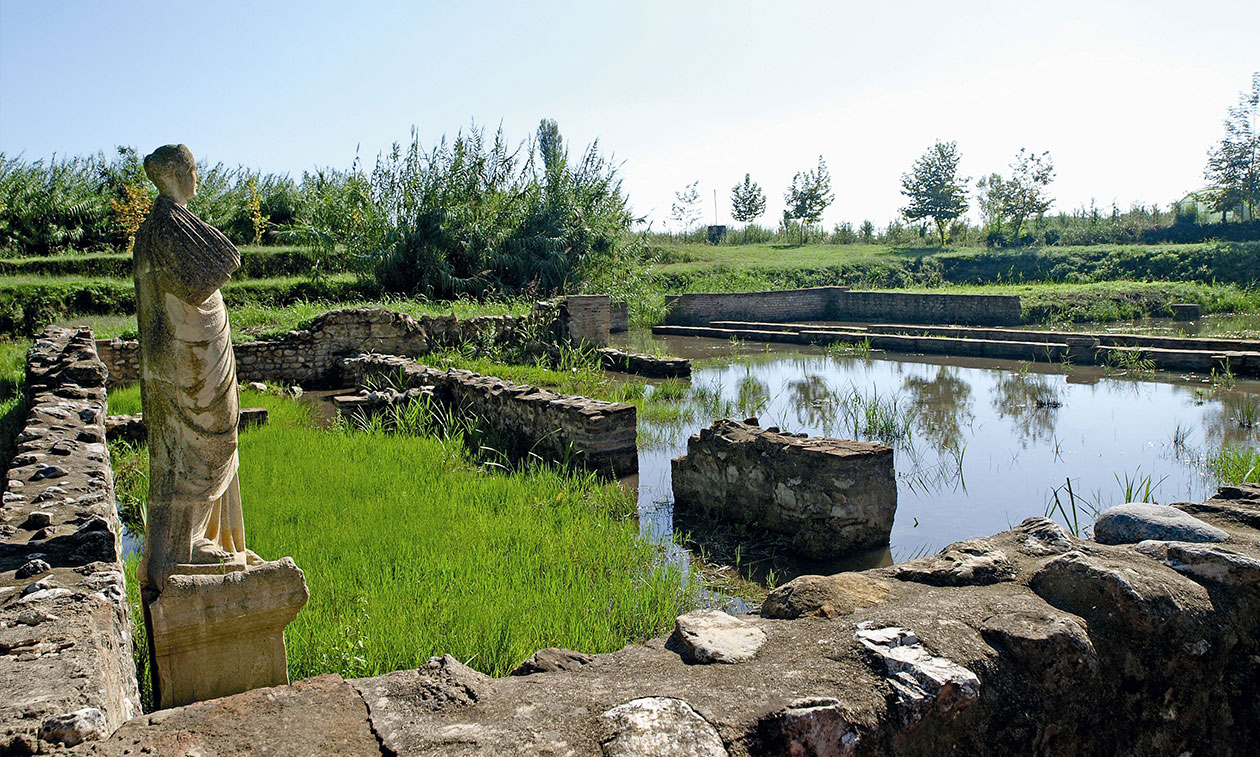 Ancient Dion is located at the foot of Mount Olympus, next to the homonymous village of Pieria Prefecture, just 5 km from the sea. It was named after the sanctuary of Zeus and was continuously inhabited since the 5th century BC. until 5th AD century. Although excavations began as early as 1928, Professor of the Aristotle University of Thessaloniki Dimitris Pantermalis brought large sections to light in the 1970s and highlighted the glorious sanctuary of Zeus the Higher.
The archaeological park covers 1,500 acres and here is the city of Dion (360 acres), surrounded by walls. Built in 2nd BC century, it includes luxury homes, public buildings, Vespasian (toilets) and workshops. To the south are the large baths, an impressive complex of buildings dating back to 200 AD. with a gorgeous mosaic on the bathroom floor, depicting the Tritons as they grab Nerides. To the east is the villa of Dionysus with the large mosaic composition on the floor representing the god Dionysus.
The city became the main sacred site of the Macedonians in the late 5th century BC. century, when King Archelaus I offered great sacrifices to the sanctuary of Olympian Zeus and the Muses and instituted 9-day Olympics in Dio in honor of them. Philip II and Alexander the Great celebrated in Dion the great victories, and here Alexander set up the magnificent "Constitution of the Granite", a sculptural composition of 25 horses in natural size, depicted by his comrades It was transferred to Rome in the 2nd century BC by the High Cyclist Metello. Also, the Christianity of the locals can be seen from the early 4th century BC basilica. The city was destroyed by the Ostrogoths and abandoned by flood or earthquake in the 5th century.
Source: https://www.athinorama.gr